Anywhere App Controller Manual
---
Congratulations on the purchase of your new Oelo multi-color lighting system. This manual is for the setup and operation of the Oelo Lighting Solutions Anywhere App, which you can download from the Apple App Store or Google Play Store.

Click to download a PRINTABLE ANYWHERE APP CONTROL MANUAL
---
To connect the app to your personal WiFi...
The Oelo Controller WiFi is best if you do not have your own secure, personal WiFi network.
Step 1: Plug in and power on Oelo controller box. Controller has two green lights to indicate power is on.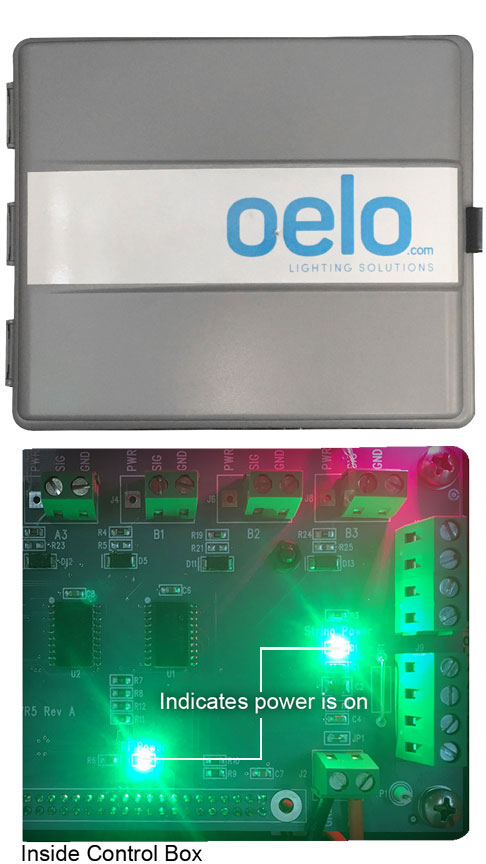 Step 2: Open your phone's WiFi settings. Controller will start to broadcast its own network, "OELO_#-##.##". Select on OELO wifi network option.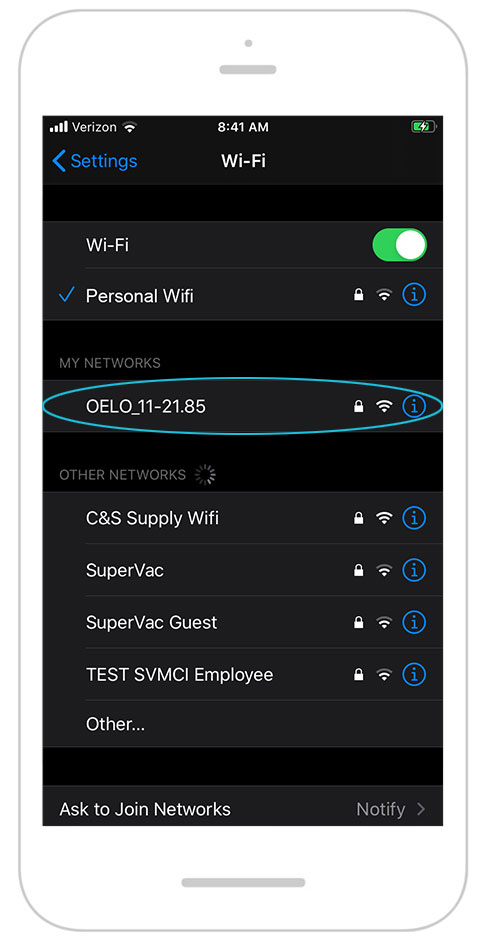 Step 3: Enter password at prompt: 12345678. Stay connected to this network.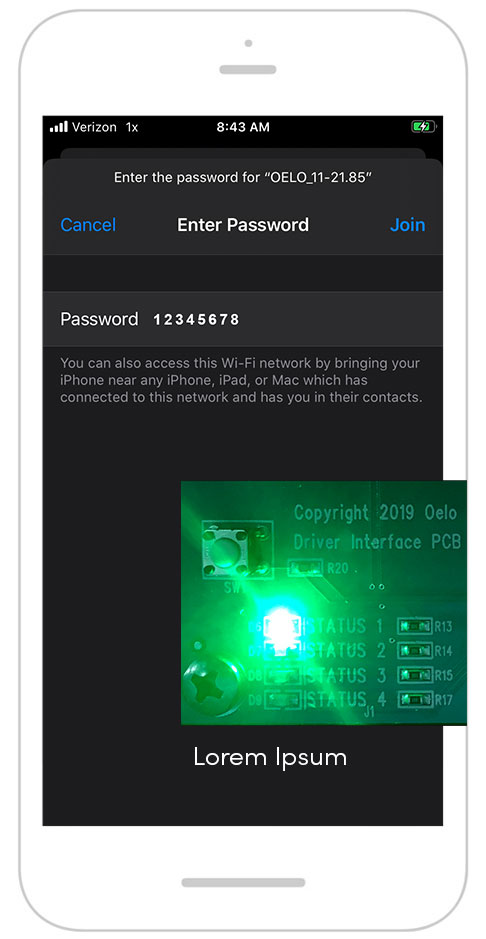 Once connected to Oelo network:
Step 4: Open web browser on phone and enter http://172.24.1.1/. Click on INTERNET tab.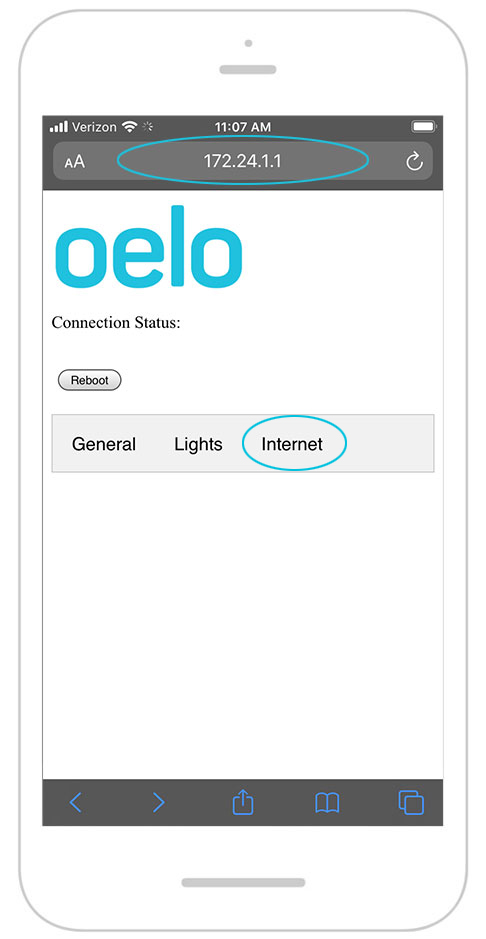 Step 5A: Under WIFI SETUP, check box for CONNECTION TO NEW WIFI NETWORK. Under AVAILABLE NETWORKS choose your network. Enter password. Tap CONNECT.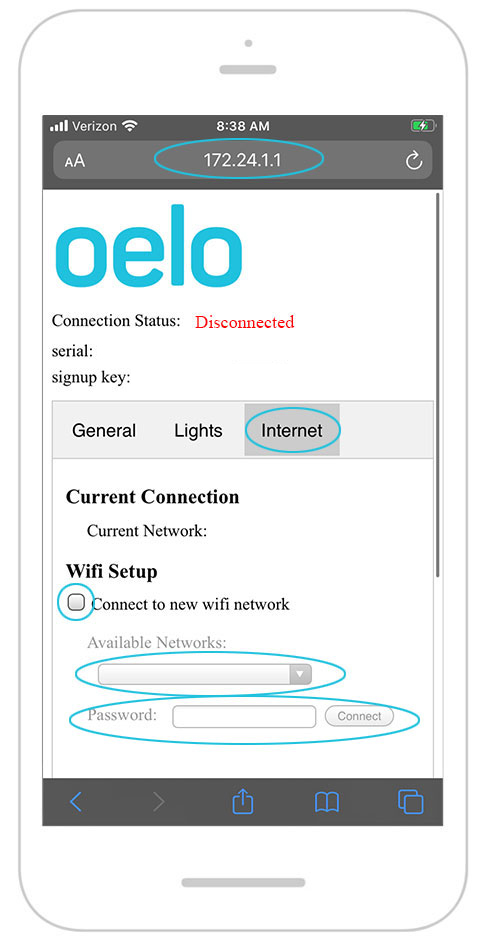 Step 5B: Wait for connection confirmation. Control Box [Status 1] light will illuminate to indicate controller has a network connection.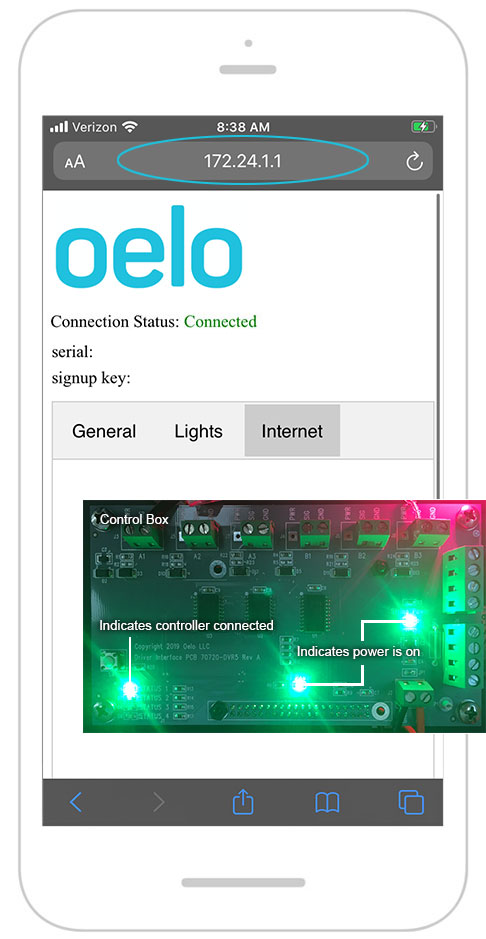 Once Connection Status is connected:
Step 6: Tap GENERAL tab. Set NICKNAME, ie "Front of House", "Patio", etc. Tap SAVE.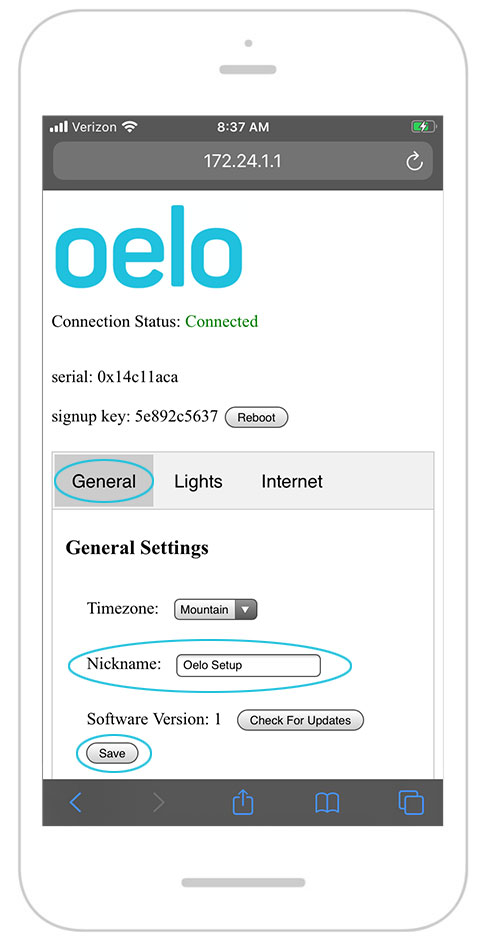 Step 7: Tap LIGHTS tab. Enter LIGHT COUNT. Does not have to be exact. (Example: If there are 212 lights, enter 250.) Tap SAVE.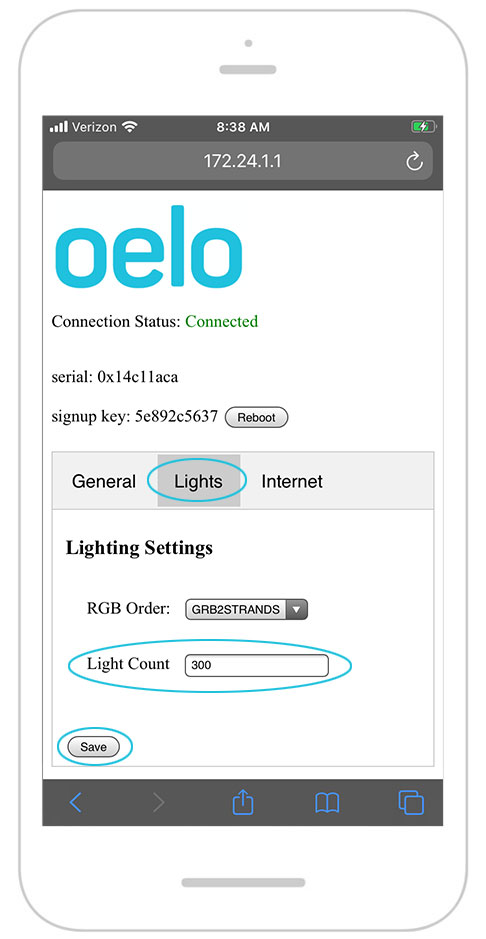 Step 8: Disconnect from Oelo WiFi. Make note of SERIAL NUMBER and SIGN-UP KEY. (Will be needed SETTINGS TAB Step 3.)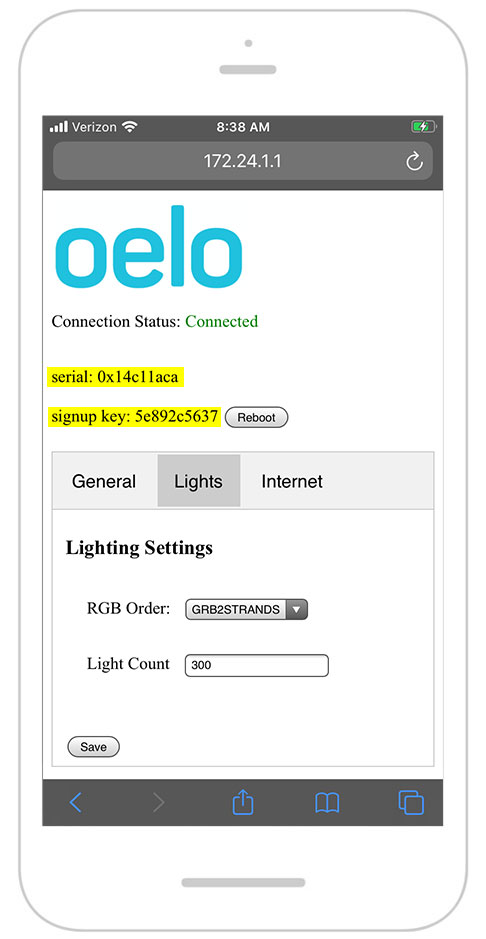 ---
---
Controller FAQs and Troubleshooting
Only a portion of my lights are responding to my commands.
Solution 1: Re-enter the number of LEDs in the settings tab.

Insert the number of lights you have installed as indicated in the customer folder you received with your order.

Solution 2: Bad connection with your home's WiFi network.

Check to see that your home WiFi network is running correctly.

Solution 3: Hardware problem. Please contact your Oelo representative after trying Solutions 1 and 2.
The Oelo app is indicating that there is "No Controller Detected."
Solution 1: Make sure the Oelo app is connected to the same WiFi network your lighting system's controller is.

T

ap the "Scan Again" button at the bottom of the screen to try again.

Solution 2: Unplug your lighting system's control-box for 30 seconds, then plug the box back in and allow it to reboot for 30

seconds. Restart the Oelo app.

If this solution is unsuccessful after the power box has been plugged back in, check for a network in your

phone's setting named Oelo-Controller.

If the Oelo-Controller network does exist, connect your device to it and proceed through the initial controller

setup steps.
The timer is functioning even after it has been deleted from the apps settings.
Go to the Settings tab in the bottom right corner of the navigation section of the Oelo app.

Once there, choose "Delete All Timers."

WARNING:

This will delete all timers set on any device that controls your Oelo lighting system.
When I choose a color on the color wheel, another color displays, instead. Example: When I choose red, my lights turn green.
Go to the Settings tab in the bottom right corner of the Oelo app navigation section.

Reset the RGB order to RGB in the RGB dropdown, unless told otherwise by your Oelo representative.
I cannot get the controller to connect to my personal WiFi network.
Solution 1: Please make sure you are entering the password and network name correctly.

Solution 2: Make sure the signal from your personal WiFi network is strong at the location of the Oelo controller.

Tap the word "Controller" to the right of WiFi Source to pull up the available list of networks and their signal strength.

If it is not very strong, consider purchasing a third-party network WiFi range extender so the signal is stronger by the control box.

Solution 3: Make sure your home WiFi network is 2.5GHz. The Oelo controller cannot communicate through 5GHz networks.
Which setting makes it so your phone doesn't always switch to Oelo WiFi from personal WiFi?
Solution 1: Change the WiFi settings to your own personal WiFi rather than the systems controller WiFi.