PUBLISHED: FRANCHISING NEWS
---
Oelo and its customer, Human Bean, a coffee franchise in northern Colorado, was featured in Franchising USA, a monthly publication devoted to franchise news. The article was published in September of 2019. Below is the featured story.
Oelo — lighting up business year-round
Under the pink glow of dancing lights, a line of vehicles wraps around a Human Bean drive-thru in northern Colorado. The rising sun is doing its best to compete with the building's brick façade, covered in pink chalk that matches the roof's colors. A barista passes a cup of coffee through the window, signaling the line to inch forward.
The pink (and all of the building's dancing lights) means just one thing — it's the biggest day of the year — Human Bean's Coffee for a Cure event, a day when franchisee Frank Sherman pools together 100% of his sales from 10 northern Colorado Human Bean locations to benefit local breast cancer funds.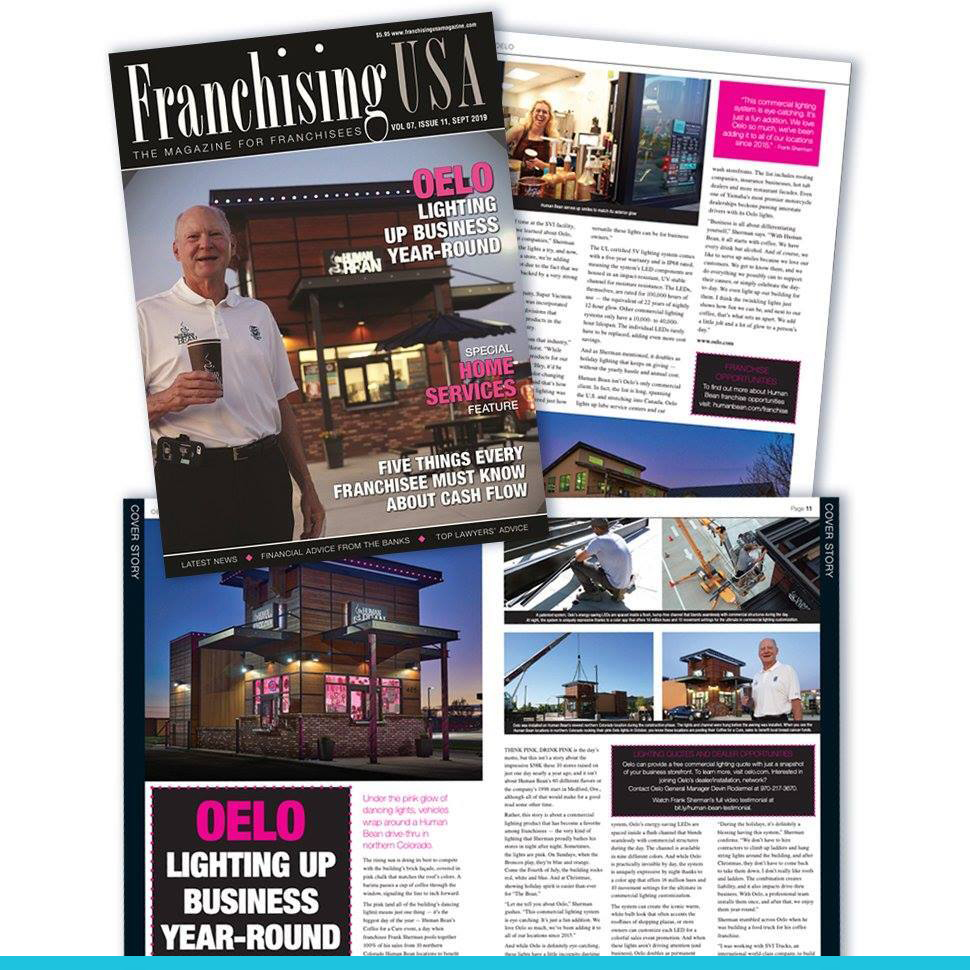 THINK PINK, DRINK PINK is the day's motto, but this isn't a story about the impressive $58K these 10 stores raised on just one day nearly a year ago, and it isn't about Human Bean's 60 different flavors or the company's 1998 start in Medford, Ore., although all of that would make for a good read some other time. Rather, this story is about a commercial lighting product that has become a favorite among franchisees — the very kind of lighting that Sherman proudly bathes his stores in night after night. Sometimes, the lights are pink. On Sundays, when the Broncos play, they're blue and orange. Come the Fourth of July, the building rocks red, white and blue. And at Christmas, showing holiday spirit is easier than ever for "The Bean."

"Oelo's commercial lighting system is eye-catching, and it's just a fun addition. We love it so much, we've been adding Oelo to all of our locations since 2015."
---
Human Bean Franchise Owner Frank Sherman
And while Oelo is definitely eye-catching, these lights have a little incognito daytime factor that franchisees love. A patented system, Oelo's energy-saving LEDs are spaced inside a flush channel that blends seamlessly with commercial structures during the day. The channel is available in nine different colors. And while Oelo is practically invisible by day, the system is uniquely expressive by night thanks to a color app that offers 16 million hues and 10 movement settings for the ultimate in commercial lighting customization.
The system can create the iconic warm, white bulb look that often accents the rooflines of shopping plazas, or store owners can customize each LED for a colorful sales event promotion. And when these lights aren't driving attention (and business), Oelo doubles as permanent holiday lighting.
"During the holidays, it's definitely a blessing having this system," Sherman confirms. "We don't have to hire contractors to climb up ladders and hang string lights around the building, and after Christmas, they don't have to come back to take them down. I don't really like roofs and ladders. The combination creates liability, and it also impacts drive-thru business. With Oelo, a professional team installs them once, and after that, we enjoy them year-round."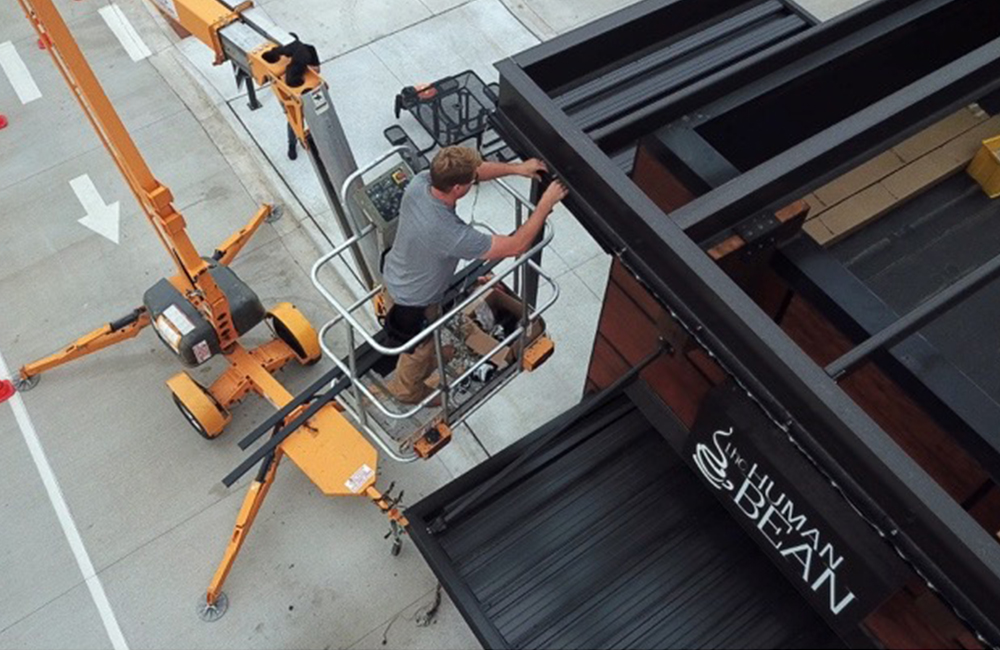 Sherman stumbled across Oelo when he was building a food truck for his coffee franchise.
"I was working with SVI Trucks, an international world-class company, to build our custom food truck. During the process, we spent a lot of time at the SVI facility, and that's when we learned about Oelo, one of SVI's sister companies," Sherman recalls. "We gave the lights a try, and now, every time we add a store, we're adding Oelo lights, and a lot due to the fact that we know it's a product backed by a very strong parent company."
The Oelo parent company, Super Vacuum Manufacturing, which was incorporated in 1954, has two other divisions that offer specialty lighting products in the emergency vehicle industry.
"Oelo was sort of born from that industry," explains Oelo COO Clay Horst. "While sourcing some great LED products for our other divisions, we thought, 'Hey, it'd be kind of cool to hang these color-changing lights outside on buildings,' and that's how the idea of permanent holiday lighting was born. Since then, we've discovered just how versatile these lights can be for business owners."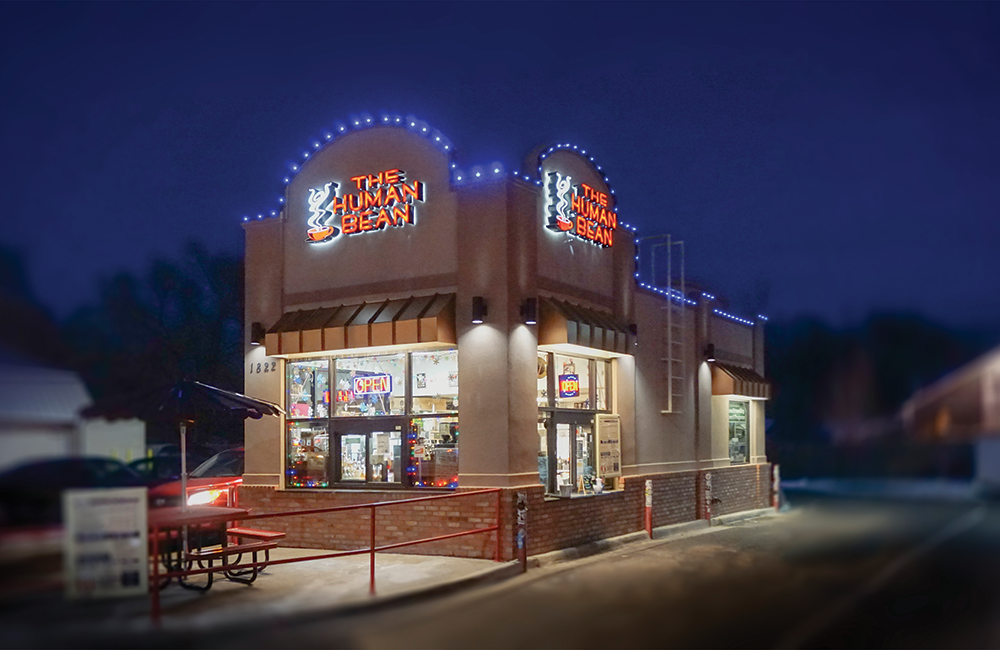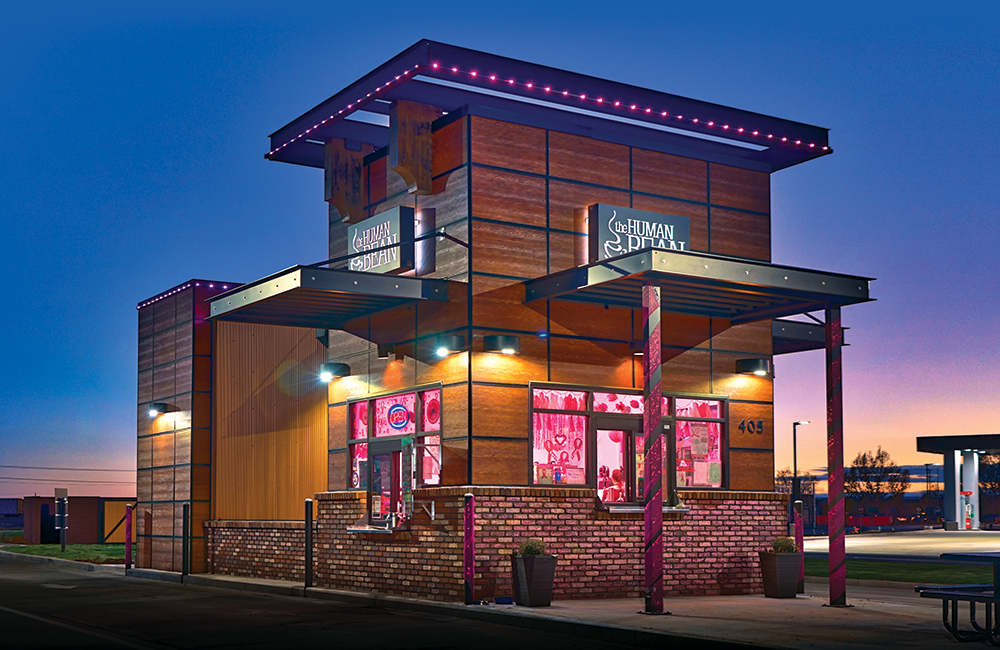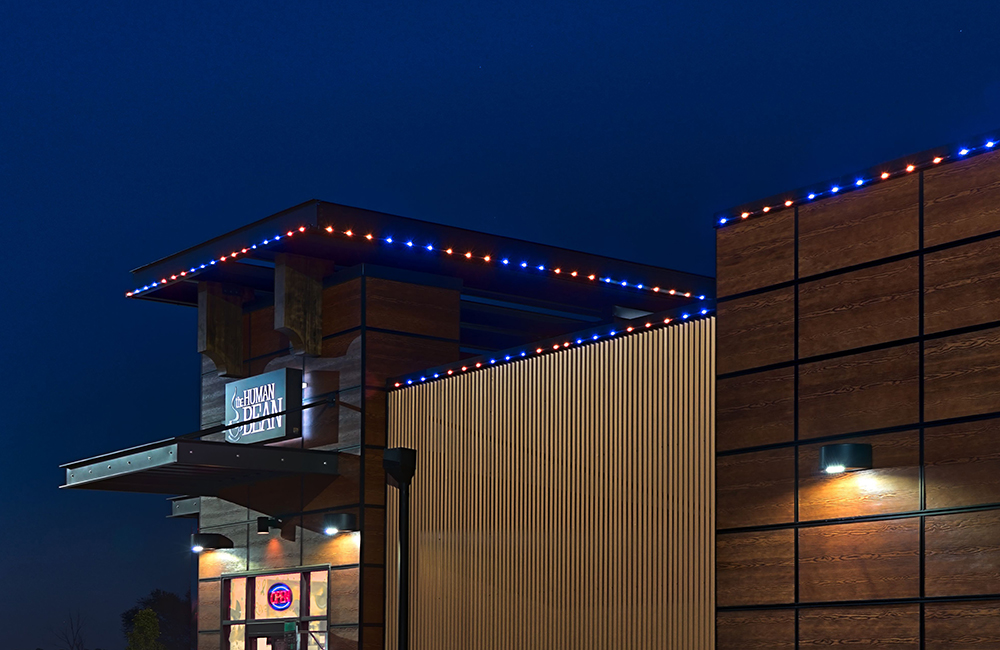 The UL certified 5V lighting system comes with a five-year warranty and is IP68 rated, meaning the system's LED components are housed in an impact-resistant, UV-stable channel for moisture resistance. The LEDs, themselves, are rated for 100,000 hours of use — the equivalent of 22 years of nightly 12-hour glow. Other commercial lighting systems only have a 10,000- to 40,000-hour lifespan. The individual LEDs rarely have to be replaced, adding even more cost savings.
And as Sherman mentioned, it doubles as holiday lighting that keeps on giving — without the yearly hassle and annual cost.
Human Bean isn't Oelo's only commercial client. In fact, the list is long, spanning the U.S. and stretching into Canada. Oelo lights up lube service centers and car wash storefronts. The list includes roofing companies, insurance businesses, hot tub dealers and more restaurant facades. Even one of Yamaha's most premier motorcycle dealerships beckons passing interstate drivers with its Oelo lights.
"Business is all about differentiating yourself," Sherman says. "With Human Bean, it all starts with coffee. We have every drink but alcohol. And of course, we like to serve up smiles because we love our customers. We get to know them, and we do everything we possibly can to support their causes, or simply celebrate the day-to-day. We even light up our building for them. I think the twinkling lights just shows how fun we can be, and next to our coffee, that's what sets us apart. We add a little jolt and a lot of glow to a person's day."
More lighting warm, fuzzy feelings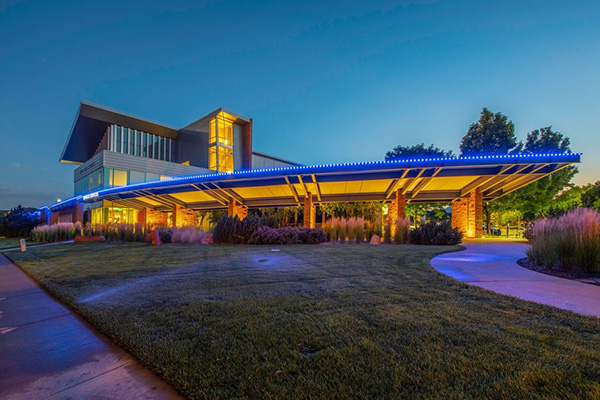 Related Articles: Lighting Effects
Children's Hospital brightens patients' stay with Oelo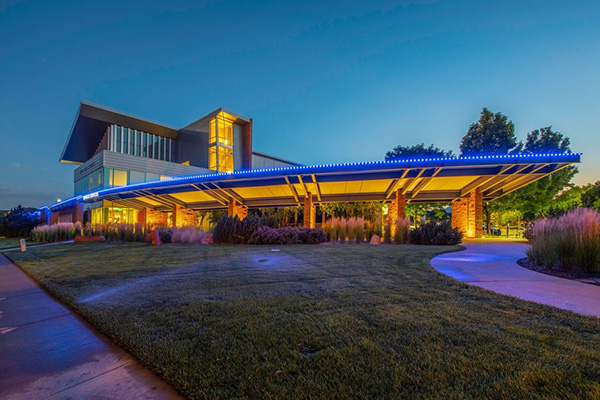 Related Articles: Lighting Effects