a comparison of go-vee
permanent outdoor lights
---
Lighting should be an upgrade. Oelo beats Go-vee outdoor permanent lights and GE StayBright LED Christmas lights any day (actually night).
---
You've probably seen Go-vee outdoor permanent lights on the store shelf, or other similar color-changing light strip products. But don't let the cheap $300 price tag excite you. You pay for what you get.
Considered one of the best LED lights on the market, Oelo is a much superior product to many off-the-shelf brands, like Go-vee outdoor lights or GE StayBright LED Christmas lights. While the price of Oelo's products may be higher, the quality and durability are worth the investment. Oelo ensures that you will have a long-lasting and reliable lighting system for your home or business for years to come, which can save you money in the long run. When it comes to lighting, it is important to choose a brand that offers high-quality products and excellent customer service, and Oelo delivers on both fronts.
Here's what makes Oelo stand out: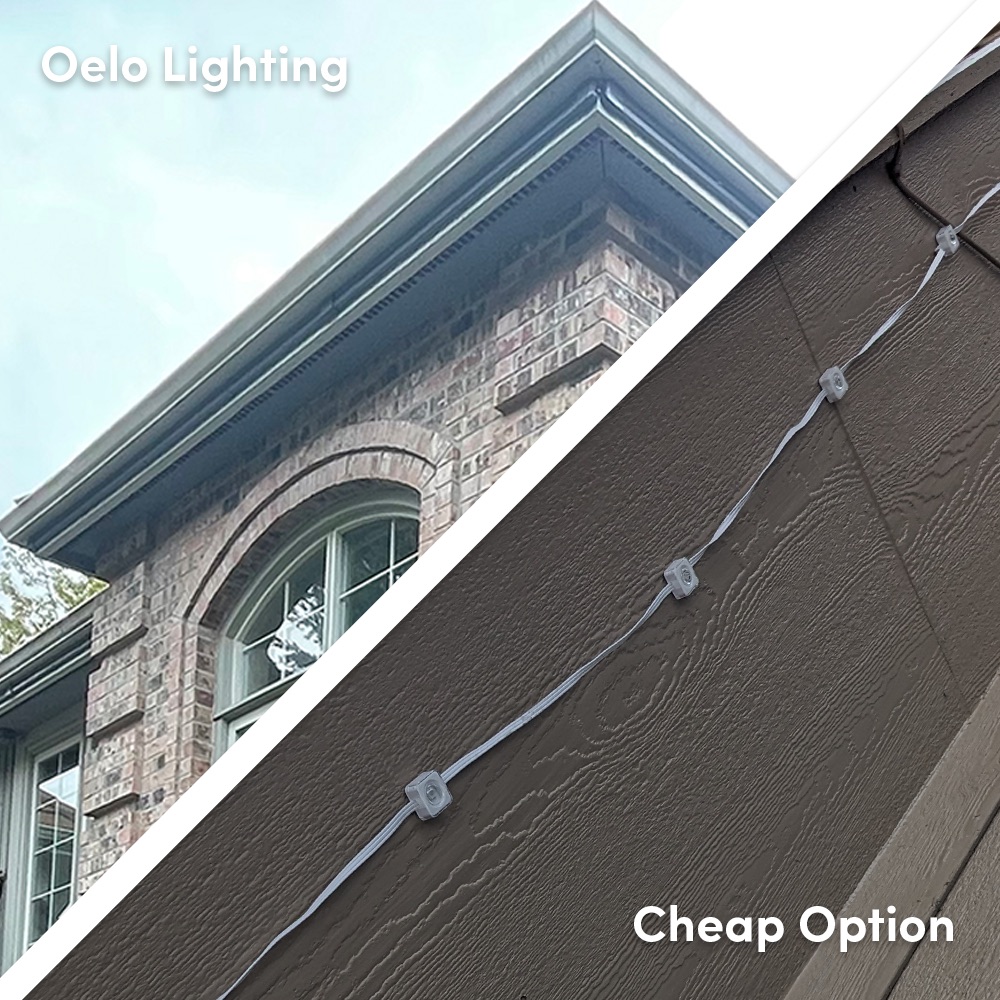 ---
INVISIBLE VS. SIGHTLY WIRING
---
One of the advantages of choosing Oelo for your exterior lighting needs is its unique channel system. Unlike low-quality solutions, Oelo's acrylic or aluminum channels allow for a clean, seamless installation that blends in with your home's exterior. With 10 color choices available, you can select the perfect match for your home's style and architecture. In contrast, options like Go-vee, rely on visible wiring that can detract from the overall appearance of your home. Additionally, many HOAs require homeowners take down sightly holiday lighting when not in use. Oelo is invisible by day and blends in seamlessly with your home's exterior!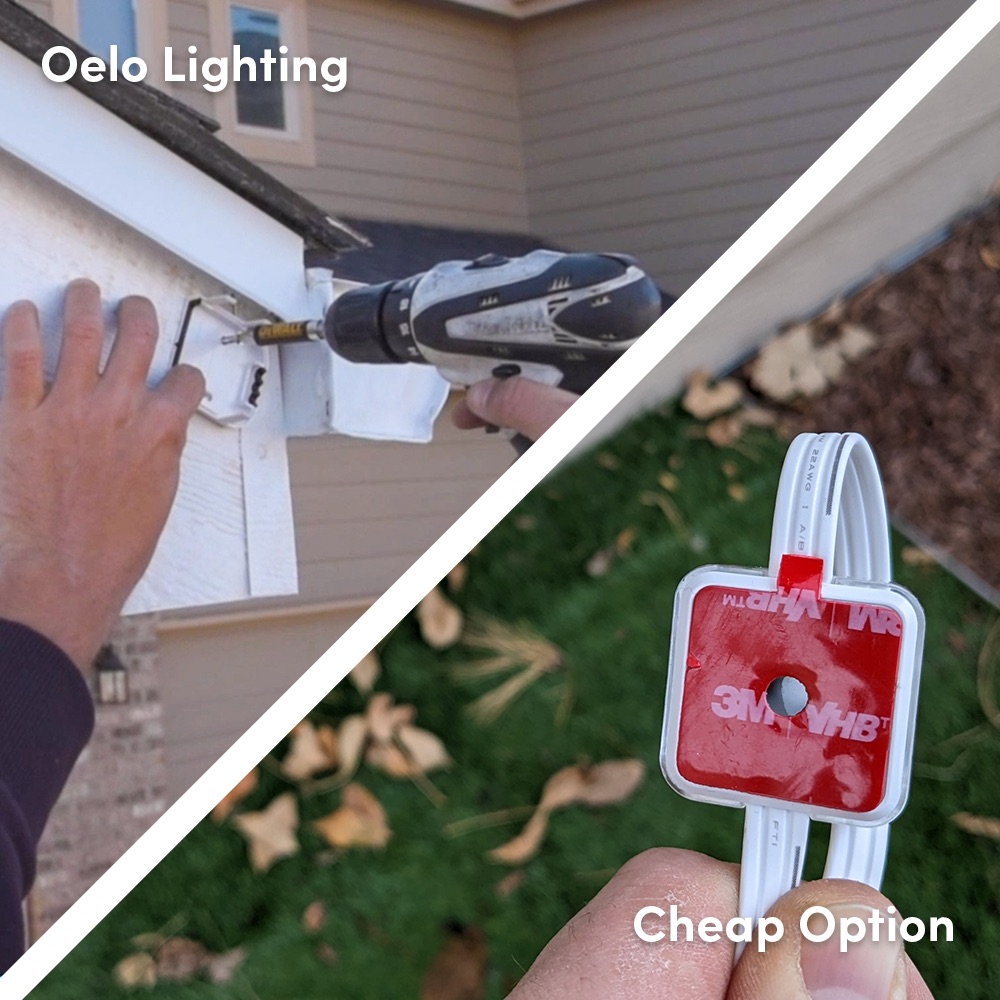 ---
PERMANENT VS. TEMPORARY
---
When it comes to mounting a lighting system, the quality of the hardware used to hang the system is just as important as the quality of the lights themselves. Oelo's use of heavy-duty hardware, like permanent covers, mounting clips and channel endcaps, means your lights are never going to fall down. Meanwhile, Go-vee light strips and GE StayBright Christmas lights are hung using proprietary adhesives that are prone to failure according to customer reviews online. Oelo's hardware provides peace of mind and ensures your lights stay where they belong, and in good condition ensuring a long product life.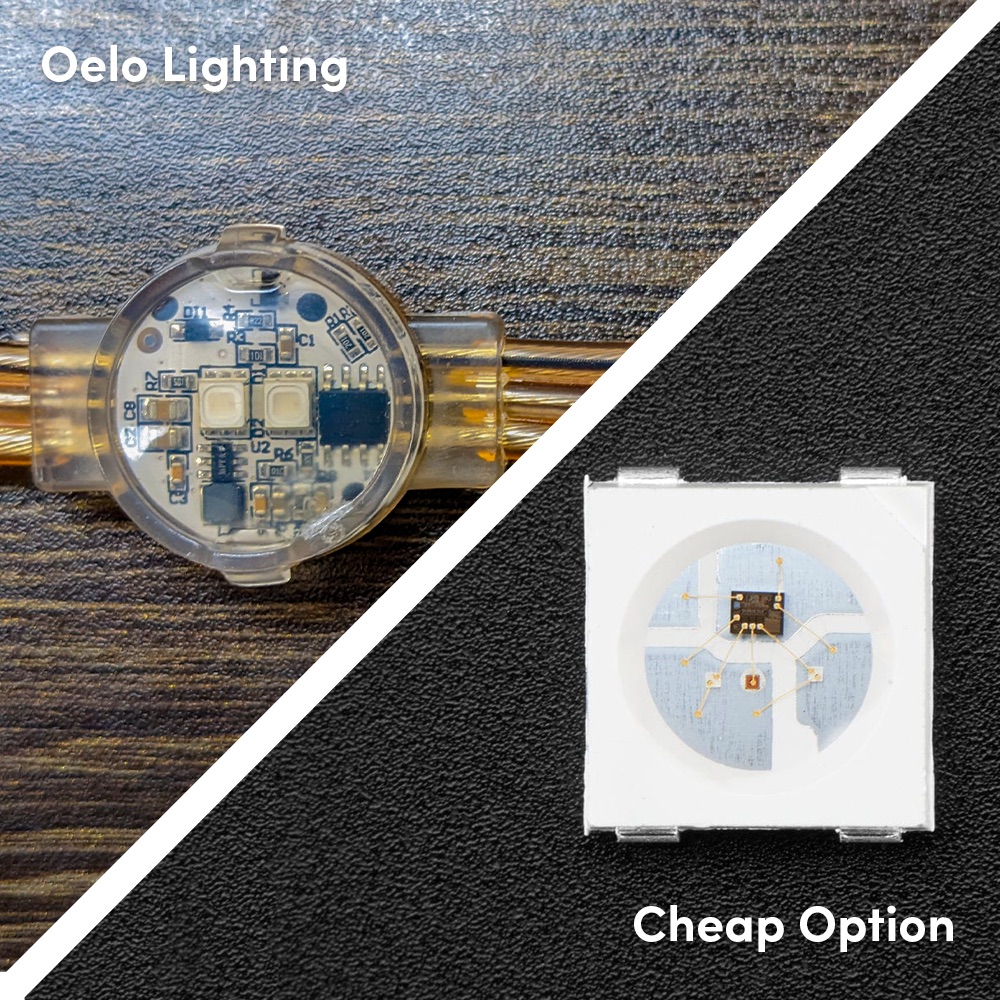 ---
100,000-HOURS VS 50,000
---
When choosing the best LED lights for your home, durability is an important factor. Oelo's LEDs have a rating of 100,000 hours, which is equivalent to 22 years of 12-hour nightly use. This means that you can enjoy a reliable and long-lasting lighting system without the need for frequent replacements. Lower-priced options, like Go-vee LED strip lights, have a rating of only 50,000 hours. Oelo also touts an IP68 waterproof rating, meaning it's fully submbersible capable, while Go-vee and StayBright report an IP67 rating, which means they cannot withstand as much submersion or exposure to water.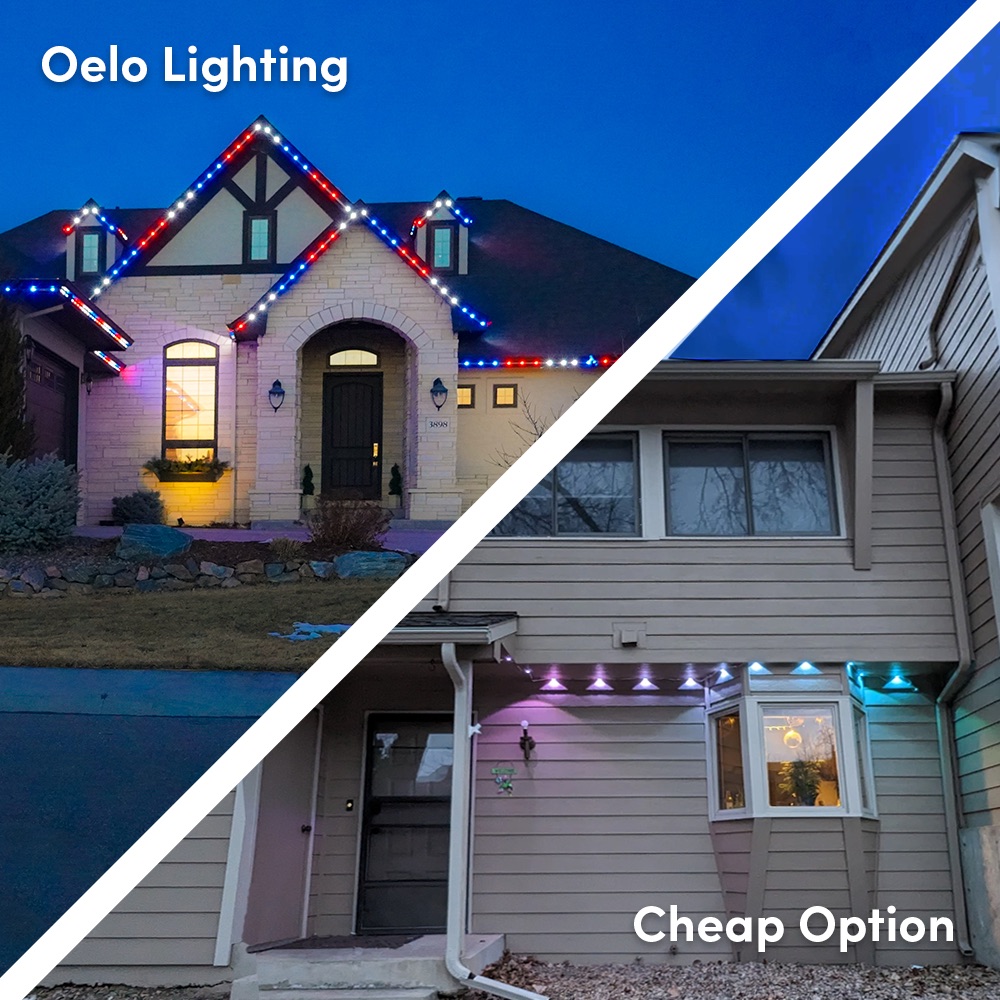 ---
LARGE-SCALE VS. 150-FT. SYSTEMS
---
When it comes to covering a large area with exterior lighting, Oelo's system offers a distinct advantage over off-the-shelf options. Oelo's modular system can be equipped with boost boxes, allowing for hundreds of linear feet of lighting to easily illuminate large structures without the need for multiple lighting systems or complicated wiring setups. In contrast, Go-vee's largest system is a 100' system, and its website stresses that extensions lights should not exceed 147.6 feet. Similarly, GE StayBright Christmas lights max out at 156.8 feet. So if you have a high-dollar home an off-the-shelf system is not going to cut your lighting needs.
Permanent holiday lighting doubles as security lights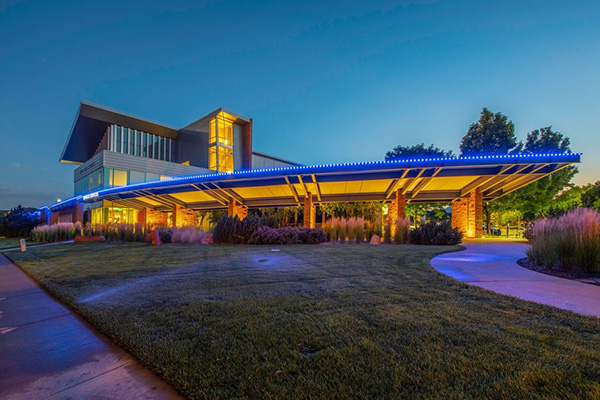 Related Articles: Lighting Effects
Lengthen roof shingle lifespan with these tips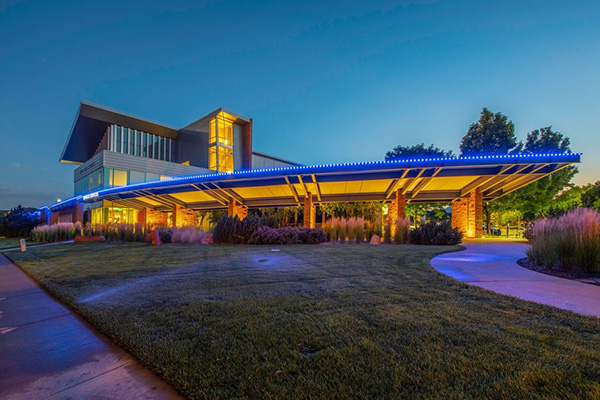 Related Articles: Lighting Effects